The incorporation of tech in the legal world is just around the corner
Ije A. is an inspiring lawyer with an interesting point of view about the implementation of tech in the legal world.  After working in Israel, India, NYC and with many adventures ahead, I thought that Ije's fascinating career path must be shared. A casual meeting at our office turned into this interesting conversation about the legal profession and the power of legal tech.
You are more than welcome to join the ride.
Right before diving into a conversation about legal tech, I asked Ije about her connection to Israel.  Zero, she said. It was all a coincidence –  she visited Israel during a student's trek on her last year attending Harvard, with no intention of ever coming back, until an encounter with a French woman who was working for the Israeli Supreme Court, without being Israeli or being fluent in Hebrew.
 The adventurous spirit has come right after when she applied to become a foreign clerk – following her trek.  Right before moving to NYC to work in a big law firm, she launched her legal career in Israel working for Justice Edna Arbel.
When I asked her about her time in Israel, Ije told me that the job was very interesting – she was conducting external research mostly of American cases. In addition, Justice Arbel encouraged her to explore and country and the culture – and so she did and even attended Ulpan (an institute for intensive Hebrew studies) to study Hebrew.
"Competition forces you to do things fast and creatively"
After a year in Israel, Ije started working in a law firm in NYC (Weil, Gotshal & Manges LLP). I thought it was an interesting transition from the public to the private sector. She said that initially her will was to work for the public sector – born and raised in Sub-Saharan Africa, and having studied development economics in addition to the law (economics for developing countries) – she was interested in places like the World Bank.
However, she had mentioned that public organizations suffer from many inefficiencies and she had many ideas and things she wanted to do. In the private sector, there are many skills she thought were good to develop when starting a career and also, the high competition forces you to do things faster and more creatively (whereas in the public sector no one is competing with the government).
As I am also a student majoring both law and economics, I can relate to that thought. When you study in a multidisciplinary way you get more ideas, and the private sector is a great platform for making changes.
"It was interesting to be a part of the thinking – how do we adopt this code to match our new reality"
Ije's work in NY was in the bankruptcy department of Weil, Gotshal & Manges LLP during the financial crisis. That, according to Ije, was interesting time to step in because the code was not designed to deal with such issues, so they had to think how to adapt the U.S Bankruptcy code to match the new reality.
I think this was a great example to when changes in the market happen faster than the change of the law – this is were the bright minds come into the picture and try to close this gap and overcome the obstacles.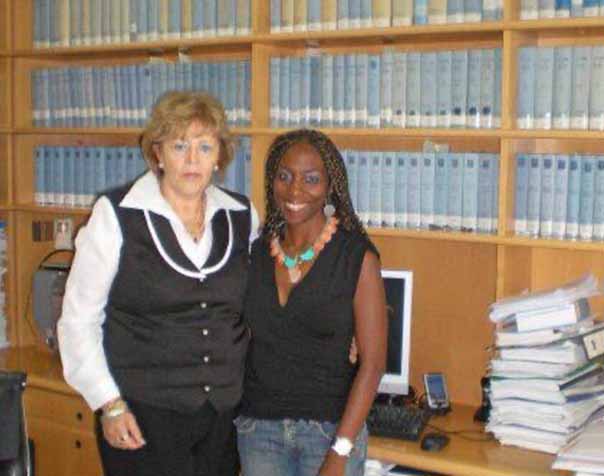 I was also wondering if there was a more efficient way to deal with those problems at the time. The daily life of a junior lawyer in a big law firm includes a lot of research – banks came with new issues which were never anticipated, and she had the freedom to find answers within the scope of the research. In her latter job in India she learned that in tech – you can define everything as a pattern. 'Tech is dumb', she said, and you have to define things very specifically before you come up with an algorithm that you can scale.
In one of her recent workplaces (Bridgewater Associates) they called this – 'another one of those' – that is the idea that every problem is similar to another one you have probably already solved. So in the context of legal tech, you can identify patterns that can guide you in finding new solutions from fields outside the ones you have mastered, including other fields beyond the law. And so, if you sent me to go do research, she said, in addition to all legal resources at my disposal, I could also find solutions from other fields rather easily, that is something where potentially tech could be very useful, through pattern recognition.
If you can come up with a smart algorithm that can borrow solutions from elsewhere, in a world where you rely on people to do the research and people have a limited schedules, this is an area where we could easily be helpful.
"I didn't know what I wanted; I just knew that was I had isn't what I wanted"
Realizing that the legal world is a pyramid, and not everybody is going to end up as partners, Ije wasn't interested enough to get into this fight. That is the point when she was offered a job in India: "What surprised me, and apparently her at the time, is that tons of legal work get outsourced from the US to India".
The opportunity that opened up was appealing according to Ije because:
She could use her skills as a lawyer

It wasn't the same thing she was doing in the US

As we've already seen before, Ije is a bit of an adventure…
"I always have my eyes and ears open because my experience had showed me that opportunities are in the most random places"
Ije told me that she spent about 3.5 years in India. There, she was working in a startup that is handling legal jobs which are being outsourced from the US. The kind of jobs that are being outsourced are for example: litigation support, contract review and document review. Ije's job was to be the contact person of the US clients and to also supervise Indian attorneys working on American projects. This startup was growing fast, when other companies were doing only one of the jobs, they understood how to channel their knowledge to expand the business.
An interesting thing she understood very quickly is that the people in India are very tech-savvy as their math education is very rigorous, meaning they are very comfortable to use tech unlike people in similar jobs in the US.  So, even their lawyers are very comfortable using tech, and gradually the work that was sent to the lawyers started incorporating tech and AI, to do some of the review, and then train it to make it get better.
I thought it is fascinating that there is an alternative world of legal services that not many people are aware even exists, and Ije said that of course the clients do know the work is being outsourced, but many lawyers she was talking to did not have a clue. Also, they did not know how much people are depending on tech to do work that they are hoping to make a living on.
"I'm sure that law schools are aware of how the nature of legal work is changing, but they are still teaching students the law the way I was taught law over 10 years ago"
Ije chose when she got back to the US to move to California because she decided she wanted to be in the tech-hub of the US, since she saw the potential tech had in the legal industry, and didn't want to be surprised in the future. When I asked her about being back to the US and what her impression of the incorporation of tech was, she said she was surprised that law schools haven't changed their programs, even while knowing the profession is transforming.
It is important to give the students an advantage by also training them to be familiar with the nature of the work, and when hiring lawyers now good grades aren't enough – the students have to show that they are comfortable with tech so if you have to go and have a talk with the AI engineer, you can be trusted to speak the language and the vocabulary.
Furthermore, she said that many law firms are developing these departments, they are focusing on incorporating tech, so the law firms are fine – it's the law students that need to worry.
"The thing about training the algorithm – I was fascinated and terrified of how fast it learns"
Later in the conversation, we discussed the nature of algorithms. After some training, it gets really good she said, it sometimes gets so good that is pools out results that you would never even ask a human lawyer to go look for. At the end of the day, the client wants results. And if this thing is giving them the results and "this thing doesn't have children, doesn't have to take the weekend off, it's cheaper – at the end of the day they will deviate to it more and more of the work away from the people" and it will come on the expense of many of the law students.
The firms are only going to pick the ones who understand how to supervise the AI team instead of the ones that can review documents, or the ones who know how to speak with the IT person. What is happening is that the IT person is becoming important, and in India – whenever Ije had a call with the client – the IT, statistician, AI people were all on the call.
She further emphasized that the lawyer is the one that needs to close the gap in the communication and have the right skills to have these conversations.
"Follow you interests is what I say, but you understand that you might not know what your interest is right now"
As someone who keeps trying to figure out what my interests are frequently, I found Ije's advise to law students very helpful. She said that we all should approach our careers, legal or otherwise, with that idea of – "I'm trying to explore".
For example, those of us who have a legal degree, and it seems natural to go to a law firm. But, she said, if you don't like it there – be open to changing your mind.
"And when you jump ship – jump into something different, and that different thing doesn't have to be something that you know you love – its ok to be unsure, again it's an exploration – do it, and if you don't like it you learned something new."
The more you do that, the more you start to narrow down and to figure out what is this passion of yours. The best way to come up with good ideas is to expose yourself to many ideas, it is important to always explore and be aware of the changes happening around you.
In addition, the tech people completely see all these new things that they are working extremely hard to see them. You need to know what they are trying to break into in your space and be prepared. If you see that people are trying to disrupt your industry – make sure that when this disruption comes you will be the last one standing. Be that someone who knows how to talk to them, be part of the disruption.
For conclusion – I had a fascinating talk with Ije, there is much we can learn from her career path and advises. As she said, the intersection of legal and tech is an area – both terrifying and exciting. It's something that it is in everyone's interest to follow and I'm excited where it is going.